When the wind blows, trees have a habit of suffering the worst of it. With their low centre of gravity and flexing structures, strong wind gusts can push a tree over with ease, and where it lands can suffer damage, disruption, chaos, and of course injury.
M.Large are able to assist in a number of ways.
Tree Surveys:
Ensure your trees or those near areas of concern are stable, safe and disease free. Get specialist advice. Our resident arboricultural team can advise on the health, position and most important, risk relating to trees prior to unforeseen weather or environmental circumstances causing them to topple. If in any doubt, lift the phone, call +442890342838 and get some peace of mind.
Emergency Tree Work:


When the unfortunate happens, it can be a very distressing time. Fallen trees can block traffic routes, access paths and driveways and even hamper access to business and domestic premises. The good news is that dealing with it usually means only a few short hours of disruption as our tree surgeons and tree works staff begin the removal process. We've done it many times, in fact, there's few out there with the level of experience we have built up here at M.Large…so don't panic, because we know well that the only words you'll want to hear at a time like this are:
"yes, it happens, and of course it's fixable…"
Crane hire: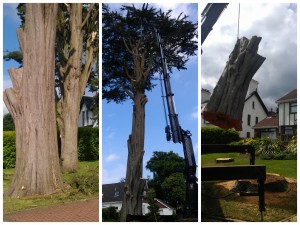 Technically a core part of our tree work involves the use of all sorts of specific and highly capable machines. It is comforting then to know that M.Large have our own in house crane hire division which includes a 27m HIAB knuckle crane capable of lifting even the biggest of trees in the event of them falling or damaging property.
The HIAB's are unique in that  they operate like a normal fixed boom to extend up, but they can also extend out without rising to gain access over buildings, structures or obstacles but without the need to elevate high…including operating inside and even reaching into buildings or warehouses!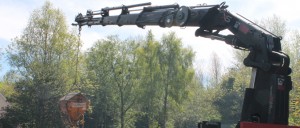 M.Large's crane hire comes with highly skilled operators on hand to advise and deal with fallen tree problems should they arise.
The cleaning up from the harsh weather has begun, for those who need us, we're here, for those who remained largely unaffected, the next time the elements bite,
….we can help you stay that way.
BY
mlarge
| PUBLISHED December 6, 2013
LEARN MORE