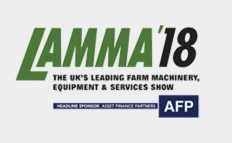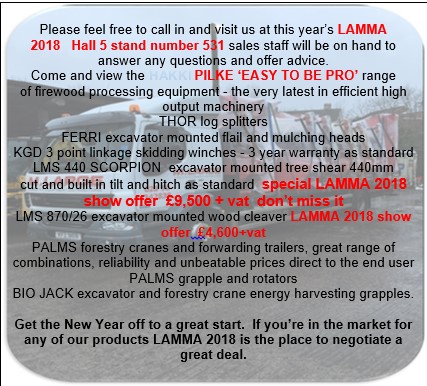 Please feel free to call in and visit us at this year's LAMMA 2018 Hall 5 stand number 531 sales staff will be on hand to answer any questions and offer advice.
Come and view the HAKKI PILKE 'EASY TO BE PRO' range of firewood processing equipment – the very latest in efficient high output machinery
THOR log splitters
FERRI excavator mounted flail and mulching heads .
KGD 3 point linkage skidding winches – 3 year warranty as standard
LMS 440 SCORPION excavator mounted tree shear 440mm cut and built in tilt and hitch as standard special LAMMA 2018 show offer £9,500 + vat don't miss it
LMS 870/26 excavator mounted wood cleaver LAMMA 2018 show offer £4,600+vat
PALMS forestry cranes and forwarding trailers, great range of combinations, reliability and unbeatable prices direct to the end user
PALMS grapple and rotators
BIO JACK excavator and forestry crane energy harvesting grapples.
Get the New Year off to a great start. If you're in the market for any of our products LAMMA 2018 is the place to negotiate a great deal.
BY
mlarge
| PUBLISHED January 9, 2018
LEARN MORE